After a few weeks of calm weather, we have transitioned into unsettled autumn conditions. Low pressure is settling near Scotland, and associated frontal troughs will affect nearly all parts of the North Sea. Despite this, we will still have ample working opportunities this week. It is important to continuously monitor the daily forecasts, as small disturbances may unexpectedly develop in the southwesterly flow, which can significantly impact wind and waves. Calmer conditions are expected later this week. Ex-hurricane NIGAL is expected to arrive near Scotland on Sunday and introducing new uncertainties into the weather forecast.
Synoptic overview
A small low-pressure area over Forties is tracking rapidly east, and the associated frontal trough over the North Sea is also moving eastward. Another Atlantic low-pressure area is expected near Scotland starting from Wednesday, and its associated frontal troughs will pass over the North Sea on Wednesday and Thursday. A broad trough will follow on Friday. By that time, the main low-pressure area will move away to the northeast, and a weak ridge of high pressure will pass over the North Sea on Saturday. The next Atlantic low-pressure area is expected west of Scotland on Sunday. This is ex-hurricane NIGEL, currently located over the Atlantic east of Bermuda. The presence of NIGEL introduces extra uncertainty into the wind and wave forecast for the North Sea.
Wind and waves
Strongest winds today are expected near the frontal trough over Humber, Dogger and German Bight where the SSW-lies might reach strong gale force. Also on Wednesday, gale force SSW-lies are expected, mainly about the central part of the North Sea.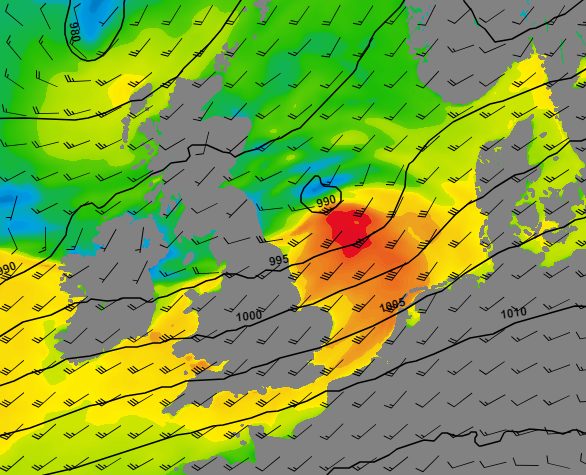 Figure 1: Wind speed and direction on Tuesday 12 UTC (GFS model). Strongest winds expected over the central North Sea.
These winds will result in the highest waves over the German Bight and Fisher, please refer to figure 2 below. Significant wave height is expected to increase to 4.0-5.0 meter.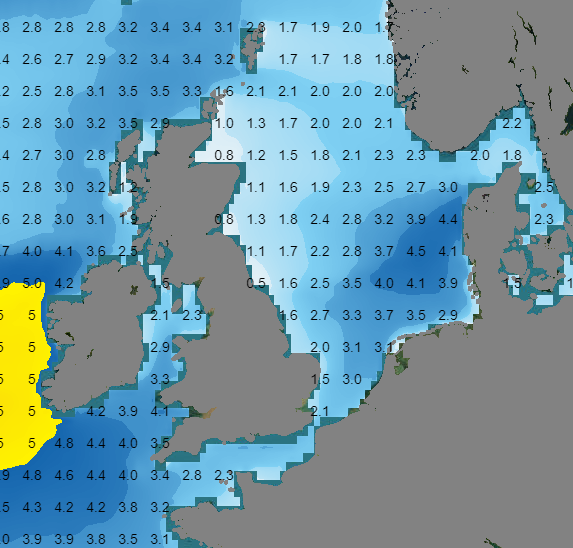 Figure 2: Significant wave height on Tuesday, 18 UTC
Waves in the northern part of the North Sea, specifically in Viking, are expected to increase to about 5.0 meters on Wednesday.
Starting from Thursday, winds and waves are expected to decrease over the North Sea. At that time, the previously mentioned low-pressure area will be situated west of the Shetland Islands, resulting in higher winds and waves in that region.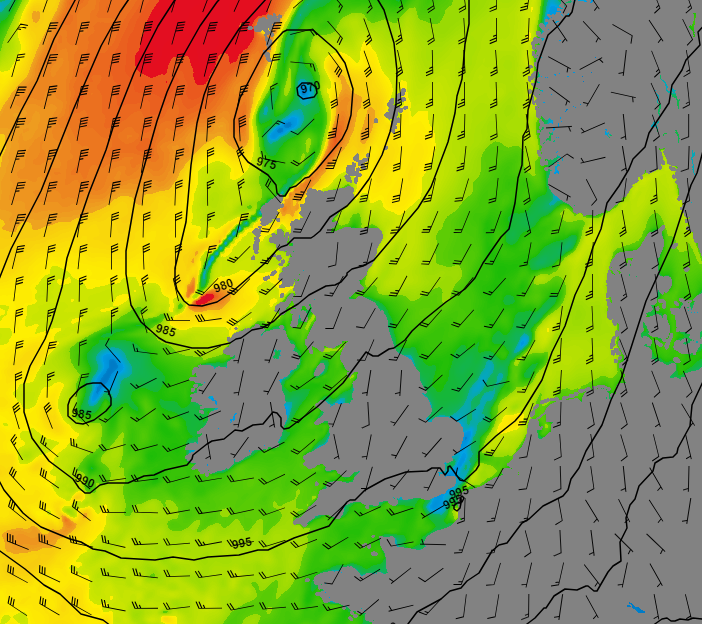 Figure 3: Wind speed and direction at 06 UTC on Thursday (GFS model). Lower winds are expected over the North Sea, with the strongest winds occurring west of the Shetlands.
The low pressure area moves away on Friday and a ridge of high pressure will pass on Saturday, resulting in waves ranging from 1.0 meter in the south to 2.0 meter in Viking.
Ex-hurricane NIGEL is expected west of Scotland on Sunday. Track is highly uncertain yet and changes from model run to model run.
Conclusion
The first part of the week exhibits unsettled conditions with occasional high winds and waves over the North Sea. Confidence in the forecast is low at times due to uncertain developments in troughs crossing the North Sea. Conditions are expected to become calmer in the second part of the week. Ex-hurricane NIGEL is expected in our region from Sunday, introducing new highly uncertain forecasts.
Learn more about the weather
We just launched our new resources page. Here you will find special content like videos, webinars and whitepapers that will guide you to a decision point. Use these expert insights to improve your business or simply to get your knowledge about marine weather up-to-date.