The upcoming days are likely to see relatively calm conditions as shallow low pressure lingers just northwest of Scotland until Wednesday. Meanwhile, high pressure is present over the Benelux region and the southern North Sea. From Thursday, low pressure is anticipated to slowly cross the North Sea, eventually reaching southern Scandinavia over the weekend.
Synoptic overview

Over the next two days, a low-pressure area (1001 hPa) is predicted to linger northwest of Scotland, while weakening slowly. Minor troughs will predominantly impact the northern North Sea and Norwegian Sea today. During this period, the southern North Sea can expect predominantly sunny conditions due to the presence of high pressure over the Channel, Benelux, and Germany. An associated ridge will extend northwards towards the North Sea tomorrow, leading to an expansion of the sunnier conditions northwards.

Read our video briefing at the end of this article
The ridge declines on Thursday, as beforementioned low pressure progressively moves eastward, crossing the North Sea. A related frontal trough crosses the North Sea from west to east the same day, moving into southern Scandinavia and the Baltic Sea on Friday. Initially, the risk of fog remains limited to some isolated instances of nighttime fog drifting offshore. As low pressure crosses the North Sea, the risk for fog and low clouds increases due to increased moisture content within the calm wind regime. During the weekend, low pressure is expected to settle over southern Scandinavia, leading to a northwesterly flow over much of the North Sea. The exact positioning and timing of this low-pressure remains uncertain.


Wind and waves

As previously mentioned, the conditions are relatively calm. During the afternoon and evening, the highest wind speeds will be observed on the southeastern flank of the low-pressure area, specifically over the central North Sea just east of Scotland and along the southwestern Norwegian coastline. Wind speeds in these regions will range between 15 to 20 knots, while the rest of the North Sea will experience wind speeds of 10 to 15 knots. The significant wave height will fluctuate between 0.5 and 1.0 meter over the southern North Sea, whereas the central and northern North Sea will experience waves of 1.0 to 1.5 meters. With the northward extension of the high-pressure ridge on the following day, wind speeds will temporarily decrease to 5-10 knots over much of the North Sea, leading to significant waves dropping below 1.0 meter for most of the area. However, just south of Norway, wind speeds will remain between 15-20 knots, accompanied by significant wave heights of up to 1.5 meters.

Thursday will see an increase in both wind and waves as the frontal trough crosses the North Sea. Wind speeds will once again reach 15-20 knots over the central and northern North Sea, resulting in significant waves of slightly over 1.0 meter along the frontal trough. The southern North Sea, under the influence of the high pressure over the Benelux region, will remain relatively calm. Low pressure moves towards southern Scandinavia on either Friday or Saturday, specific details are still unknown. As low pressure will be gradually weakening, winds are expected to remain within the 5-15 kts range and significant wave height is likely to remain below 1.0 m across most areas. Once low pressure has settled over southern Scandinavia during the weekend, northwesterly winds over the North Sea will become widespread 15-25 kts. The highest wind speeds are expected just south and southwest of Norway, locally reaching up to 30 kts. Wave height will gradually increase to 1.0 to 2.0 m, and just over 2.0 m just south of Norway.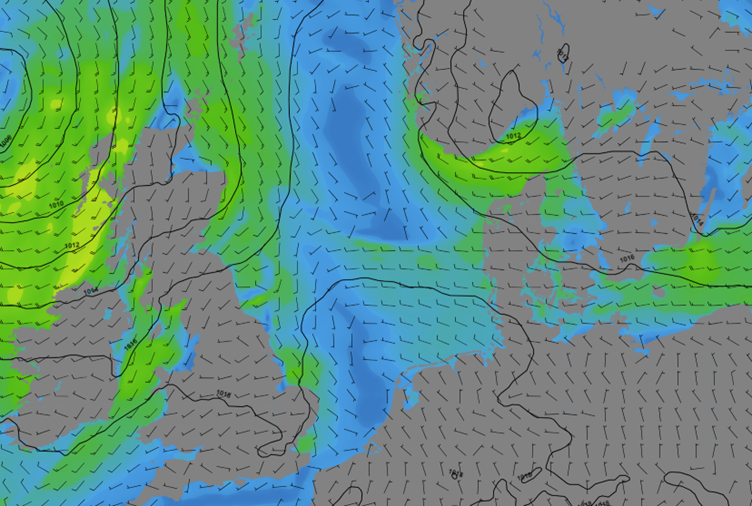 Figure 1: Isobars (black lines 5hPa) and wind speed/direction (kts) valid Wednesday, August 23rd, 18 UTC. A high pressure ridge is present over the North Sea. Low pressure lingers NW of Scotland.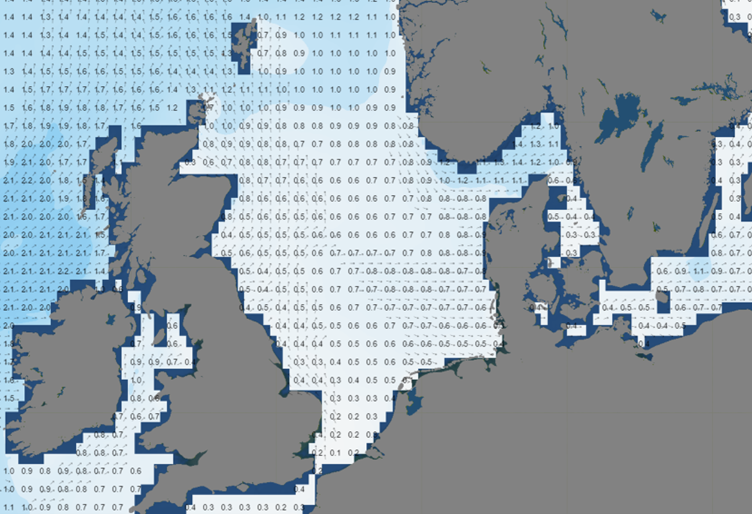 Figure 2: Significant wave height/direction (m) valid Wednesday, August 23rd, 18 UTC. Wave height drops below 1.0 m under high pressure influence.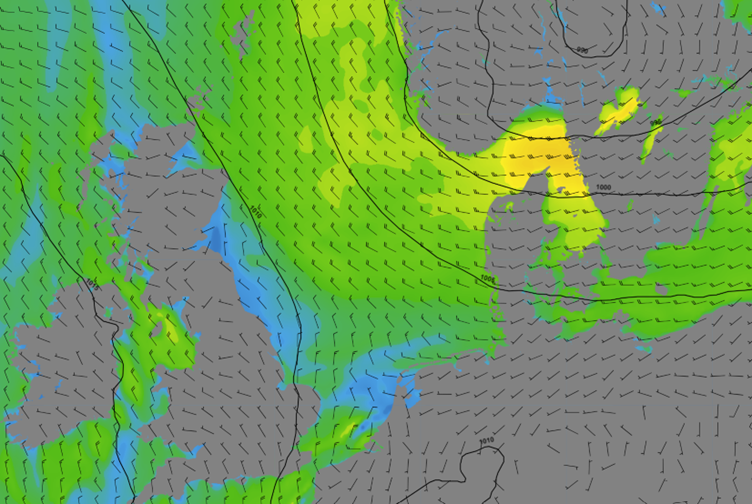 Figure 3: Isobars (black lines 5hPa) and wind speed/direction (kts) valid Friday, August 4th, 12 UTC. A northwesterly flow over the North Sea as low pressure settles over Scandinavia.

Figure 4: Significant wave height/direction (m) valid Sunday, August 27th, 21
UTC.
Conclusion

This week's relatively calm weather offers numerous working possibilities over much of the North Sea. Localized fog or low clouds may temporarily hinder operations, particularly when low pressure crosses the North Sea with accompanied frontal zones. In most instances, wave height is unlikely to pose a significant constraint throughout this week.

Learn more about the weather

We just launched our new resources page. Here you will find special content like videos, webinars and whitepapers that will guide you to a decision point. Use these expert insights to improve your business or simply to get your knowledge about marine weather up-to-date.