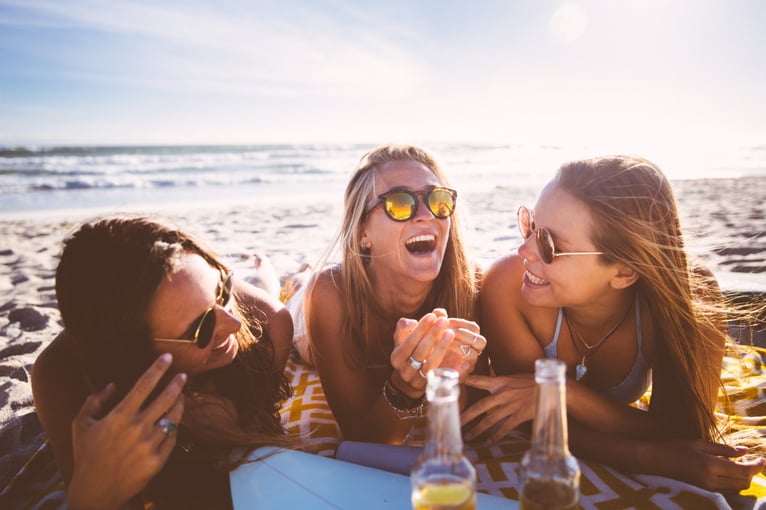 Upgrade your news using an
up-to-date and reliable weather forecast
Since the weather is getting more and more extreme, adequate media expertise is required to inform the public as well as possible. The weather and traffic conditions make their way into our daily conversation and in great part determine our behaviour, making a spot in your news indispensable.
Why use Media Support?
It is our passion

to present complex information in a clear and transparent manner

We would be more than happy to do that for you too.
Facts and figures

on Infoplaza Media Support
Nr. 1
in weather visualizations
and design
95%
of Dutch media
is serviced by us
> 100
weather and mobility experts are ready for you
101
ways of publishing
a weather forecast
Together with
our weather experts

we guide you
to better decisions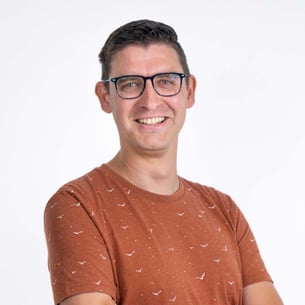 Jaco van Wezel
Team Lead Media
"By responding well to the interests of consumers, customers and media, we provide everyone with the right weather information."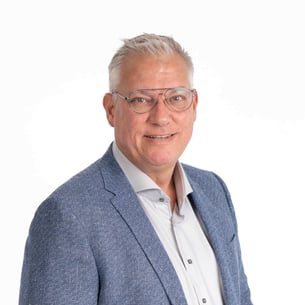 Raymond Klaassen
Team Lead Media Weather Forecasting AV
"The weather can cause major consequences for our clients. Clear and to-the-point advice is therefore crucial."
What are the ways in which we can enrich your news?
Media partner
Our services go beyond a weather forecast. As a media partner we aim to find the best business model together, with solutions for television and radio, web and app, newspapers and narrowcasting. Drawing from years of experience we are able to
help you with your issues and challenges both customer and service directed.
Customized weather forecast
Our weather forecasts are always customer directed and customized. There is a solution for every issue, an answer to every question. We like to be challenged in contributing to your wishes and goals. Whether it concerns newspapers, websites on news or lifestyle or other online platforms, nothing fazes us.
Editorial support
When the weather is news, of course you want to be able to respond adequately and provide your target audiences with reliable information. We create content that
supports our media partners in interpreting the weather situation, using clear language and clarifying visuals.
24/7 support
On a daily basis our media meteorologists, editors and designers provide many media outlets with news on weather and climate. Using 'best in class' technology we create the most beautiful visuals to deliver the news with power and clarity to all audiences. And since the weather's always here, so are we.
Video and television
From our own Infoplaza studio we make weather news and weather forecasts using your look and feel. When a storm, floods or a drought make headlines we can provide an on air live connection to our meteorologist to give more insight on the situation. We are also able to provide you with a weather presentation kit with weather data for your own use. We do this for example with the NOS Journaal and Omroep Flevoland.
Do you wish to have a weather topic for your own television or online program? We happily share our expertise.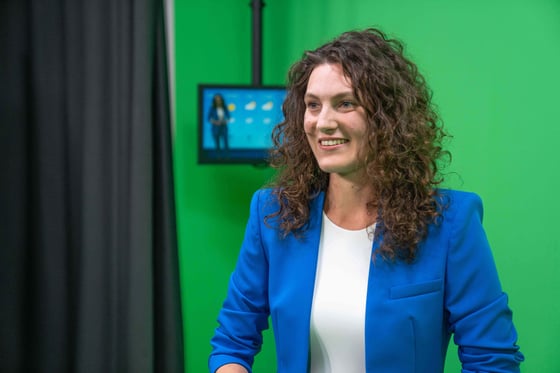 Radio and audio
Every hour we provide radio news services with the current weather forecast for their broadcasts. Either on air or through our partner ANP. The listener hears the forecast through the newscaster or one of our own media meteorologists, live from the Infoplaza radio studio. Clear, transparent and to the point is how we inform the public about the current weather situation.

We can also contribute to voice assistants and podcasts, as well as provide newsrooms and dj's 24/7 with our weather feed for them to just read out loud.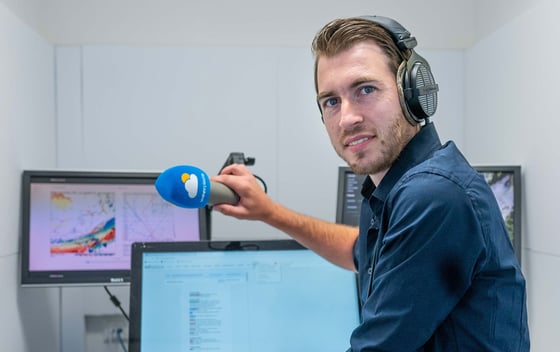 Web and app
We provide weather data and information to the top 10 of The Netherlands' most popular websites and apps, such as AD.nl, NU.nl, Telegraaf.nl and NOS.nl. Thanks to Infoplaza's data these websites are able to share high-quality and reliable information with their users.
We can provide any media partner with a distinguishing weather forecast that will correspond to the various target audiences. They can implement smart API's themselves or we can create an instant solution working together closely.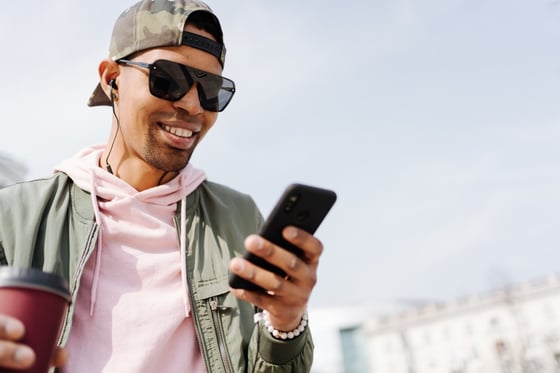 Newspapers
Every day we complete and deliver over thirty weather forecasts, each one customized in order for it to be published in a personal design. For regional newspapers we add local weather information and, for instance, river and water levels.

Of course we not only service the printed publication, but also provide information on weather, traffic and public transportation for web and app. With a suited business model, based on exposure and advertising revenue, we happily assist in pursuing a complete news service and limiting operational costs.
Creative and expert
Apart from all necessary knowledge our experts bring a huge amount of creativity to the table, in order to create the perfect format, together with the client.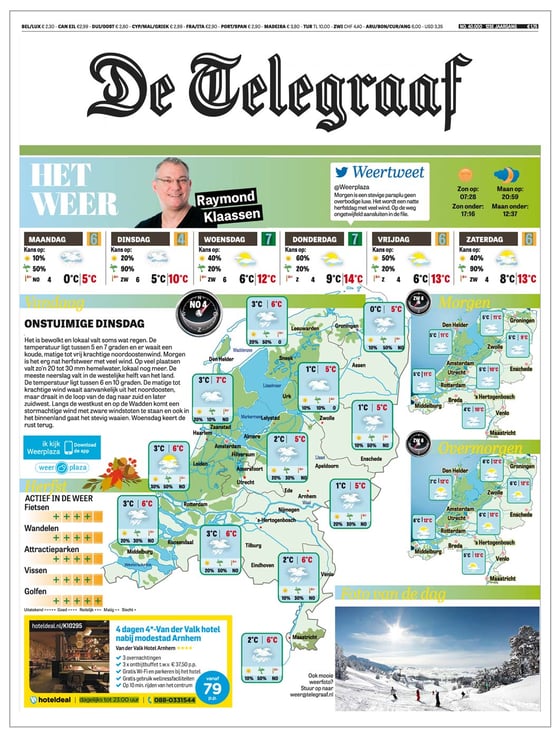 Narrowcasting
Do you wish to inform visitors at your location about the weather, traffic and public transport? According to the geographical location we provide several solutions for narrowcasting and other digital communications. Complete and easy to implement. A beautiful and helpful extra service for your customer.
Current and high-quality
At your location you inform visitors using current data: a valuable addition.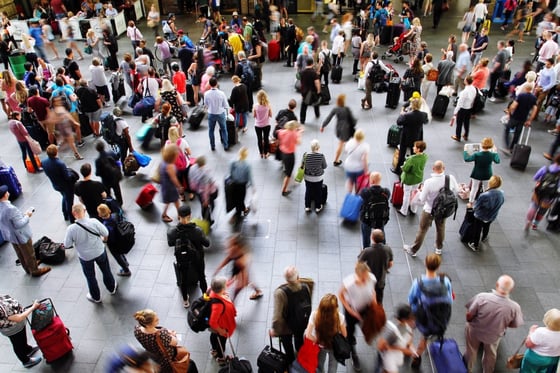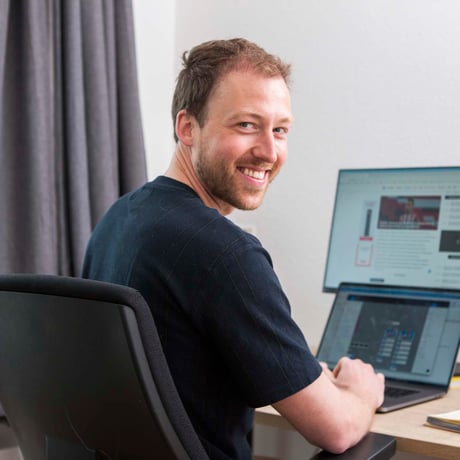 "I don't know NU.nl without Weerplaza. We are always looking for ways to help people with relevant information and Weerplaza the weather information to do just that."
Jurre de Ruiter
Head of product, NU.nl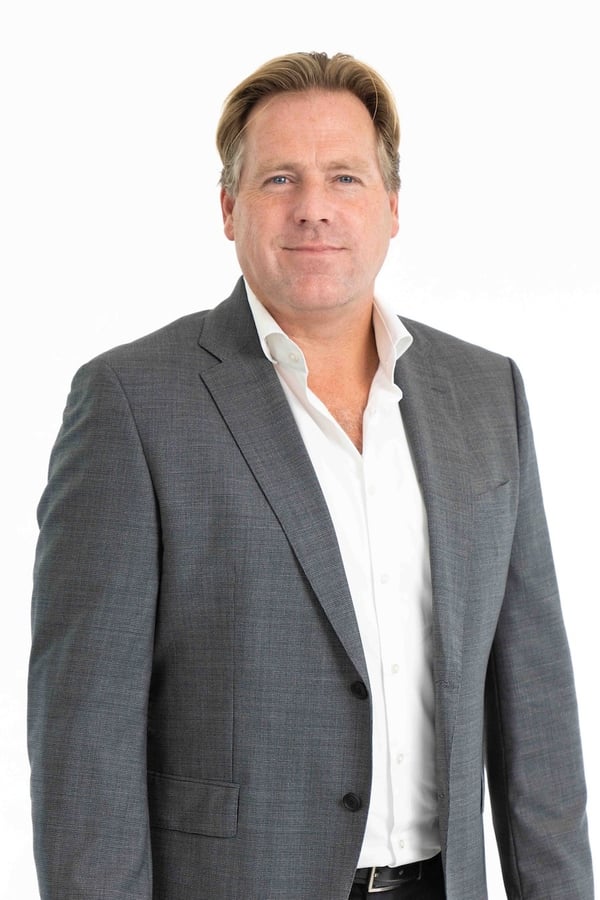 Do you wish to inform your target audience about weather and traffic?
Our knowledge is extensive, so please ask us about the possibilities for your organisation. We would happily tell you about it face to face.

René Westening
CEO Network