Following a period of changeable weather over the past few weeks, with Atlantic lows intermittently affecting the North Sea, high pressure arrived near Scotland last weekend. The high-pressure system has remained persistent and largely stationary throughout the week. So, it would seem natural that calm and workable conditions lie ahead. However, this situation may allow for lee-effects to occur in certain North Sea areas. Find out in this week's weather briefing what the consequences might be for marine operations.

You will find a video briefing at the end of this article.
Synoptic situation

As mentioned earlier a blocking high lingers over or just NW of Scotland over the coming days. The emphasis moves S whilst settling over the British Isles from Thursday onward before slowly declining during next weekend. Meanwhile pressure is low over the Mediterranean and north(east)ern Scandinavia.

On the high's eastern flank north- to northeasterly winds prevail. As the airflow interacts with the Norwegian highlands before entering the North Sea, several small-scaled processes (which we will discuss in a separate future article), enable the development of a lee-low downstream, just off the coast of S Norway later on Tuesday. The shallow low drifts southwestward into the northern German Bight and central North Sea afterwards (please see figure 1).

These lows can sometimes deepen and become well-developed weather systems if circumstances are supportive. However, in this case the absence of a thermal gradient as well as lacking instability inhibits further development. Hence the low dissipating quickly later on Wednesday.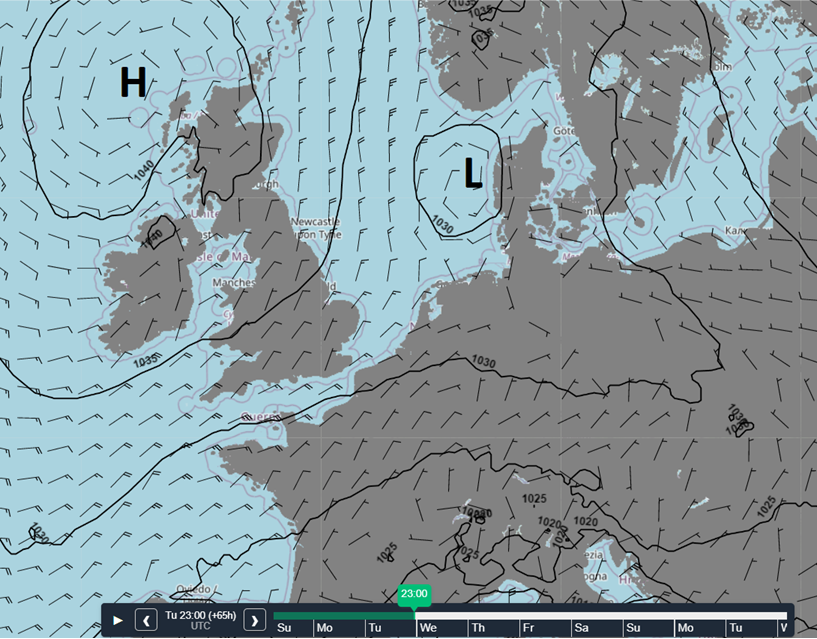 Figure 1: High pressure near Scotland, lee-low just W of Denmark on Tuesday evening.
Late Thursday and on Friday a weak frontal trough, associated with low- pressure over Scandinavia, is pushed southward across the North Sea. The predominant high pressure influence causes most frontal activity to be diminished by then. However, as the trough arrives just S of Norway, the same lee-effects as discussed above will cause the trough to deepen shortly before crossing Denmark and the German Bight. This process will likely be repeated coming weekend.
Wind and waves in the North Sea this week
As discussed earlier, winds curve clockwise around the Scottish high leading to north- to northeasterly winds being predominant throughout this week, except for Fisher and the German Bight which will notice the disturbing influence of the lee-low. In general winds will not exceed 5 Bft while Hs lingers between 1.0 and 2.0m. However, due to some funneling along the southwestern parts of the Norwegian coast, as well as on the western flank of the lee-low, a strong breeze (6 Bft) might pick up while Hs increases to 2.5-3.0m. The latter especially over the eastern parts of Forties and western Fisher on Tuesday and Wednesday.

In the wake of Friday's weak frontal trough winds veer to north to northwest, with 5-6 Bft over the entire (north) eastern half of the North Sea, possibly reaching near gale or gale force during the weekend (7-8 Bft) as another trough swiftly shifts S. Near the troughs and associated wind peaks Hs may possibly increase to around 4.0m (Please see figure 2).




Figure 2: Wind and wave peak over the eastern North Sea on Saturday evening. High pressure still present over the British Isles.
Conclusion
Under the influence of a Scottish high-pressure system conditions are expected to be good for most marine operations this week, dependent on operational thresholds of course. As discussed, regional differences might occur due to local effects which enhance winds and waves at times. Towards next weekend circumstances become more unsettled, especially over the eastern half of the North Sea.



Weekly weather briefing
Every week we will post an updated weather briefing on the Infoplaza website and the Infoplaza Marine Weather Operations LinkedIn page. We will also share weather related articles and topics on offshore weather on these pages. We hope all our clients stay safe at sea this week. Please feel free to contact us at any time if you have any questions or remarks.