Over the past few weeks, North Sea weather was generally dominated by low-pressure systems coming in from the Atlantic, often leading prolonged periods of unfavorable conditions. Currently, those deep Atlantic lows are following a more northerly track while a ridge of high pressure lingers over the southern parts of the North Sea, at least for now. Find out in this week's weather briefing how long this ridge will be able to keep Atlantic influences at bay.
Synoptic situation

An elongated belt of high-pressure stretches from the Celtic Sea across the southern parts of the North Sea and Germany all the way into northern Poland and Belarus, but it's expected to slowly shift southward over the next few days. This high-pressure zone will gradually move west, ending up west of the British Isles from Wednesday onward; building into a rather strong area of high-pressure during the second half of this week.

Meanwhile, deep Atlantic winter depressions are expected to track east across Iceland towards Scandinavia. A distinct associated frontal trough will sweep across the North Sea from the northwest on Wednesday (see Figure 1) but will swiftly retreat to the south on Thursday. In its wake a ridge, associated with previously mentioned high, is expected to cross the North Sea from the north on Thursday and Friday, in effect performing a changing of the guard over the area for a short period of time. During the weekend low-pressure over Scandinavia will quickly gain influence as well.


Figure 1: High pressure leaving to the south on Wednesday 25/01 12z. A frontal trough moves in from the NW at the same time.
Wind and waves
Conditions will tend to be rather calm over the larger part of the North Sea due to the influence of the high-pressure ridge in the south. North of the ridge-axis, mild maritime air is present accompanied by moderate to fresh southwesterlies, so Hs in expected to remain (well) below 2.0m. Only in the far north(east) these values may occasionally be exceeded.

However, this all changes when a frontal trough tracks southward across the area on Wednesday, followed by abruptly veering north to northwesterly winds. This development enables a more significant wave build up due to longer fetch. In the cold postfrontal airmass Hs is expected to build up to 2.0-3.5m as a result, possibly up to 4.0m over Fisher and Forties on Thursday. By then a strong north to northwesterly breeze (6 Bft) can be expected in most places, but possibly reaching moderate gale force (7 Bft) in more isolated areas. (Please See Figure 2).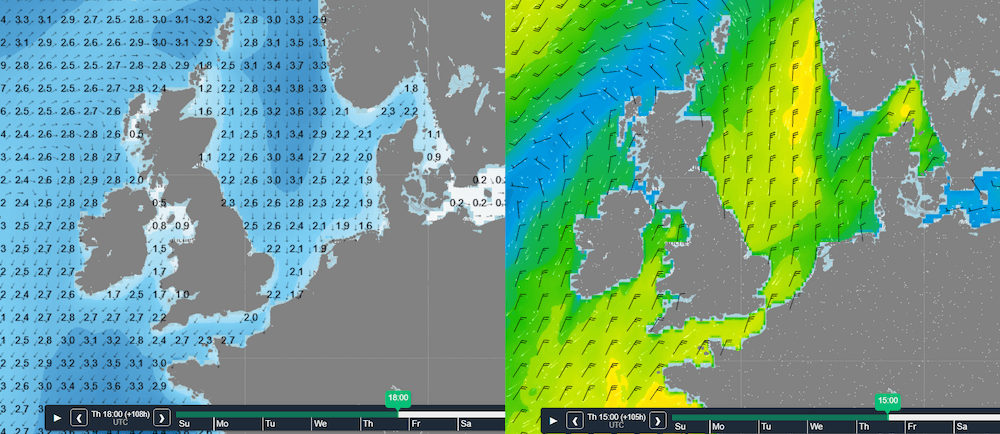 Figure 2: Wind and wave peak on Thursday.



The absence of a well-developed trough cranking up the pressure gradient even more, will most likely prevent higher waves and/or stronger winds occurring. Also, an incoming ridge from the North will dampen a further increase of Hs from later on Thursday. As this ridge shifts south across the North Sea, conditions will calm down on Friday with Hs lowering to below 2.0m again. Later that day an Atlantic low will gain influence over the northern North Sea though, with Hs increasing to 4.0m. The ridge is expected leaves to the south at the same time.

During the weekend low-pressure moving into Scandinavia becomes predominant with increasing northwesterlies on its western flank and associated waves over the North Sea.


Conclusion
In contrast to what we've seen over the last few weeks, conditions will remain quite favorable due to high-pressure affecting the North Sea both at the start and end of this week. In between, a frontal trough marking a changing of the guard will shortly allow for some unsettled weather to occur during the course of Wednesday and especially on Thursday.


Weekly weather briefing
Every week we will post an updated weather briefing on the Infoplaza website and the Infoplaza Marine Weather Operations LinkedIn page. Here we will also share extra insights and animations you might find useful. Feel free to always contact us for weather related topics in case there is any need.